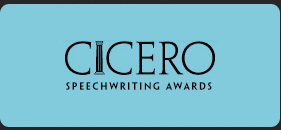 Jeff Porro Wins Cicero Speechwriting Award for Best Commencement Address
03/08/10
Washington D.C. speechwriter Jeff Porro has won a 2010 Cicero Award for Best Written Commencement Speech. Porro won for his work on a speech delivered by Anne Lynam Goddard, President & CEO, Christian Children's Fund to Assumption College, her Alma Mater in, June 2009.The Cicero Awards are presented by Vital Speeches of the Day, the nation's leading professional speechwriting publication.
"I'm proud of the work I did on the speech," Porro said, "But Anne made this award possible by sharing so much of her history, her humor, and her life experience. She's the kind of speaker speechwriter's dream about."
Porro is a speechwriter for Fortune 250 CEOs, diplomats, and other government leaders, as well as executives of some of the nation's leading trade and professional associations. He is also an award winning screenwriter and a PhD with 20 years of experience in research, public policy, and business. He has been profiled in the Washington Post, National Journal, Washington Business Journal, and other publications.
Vital Speeches of the Day publishes effective speeches by those who have attained leadership in the fields of business, politics, education, government, and more. The Cicero Speechwriting Awards honor excellent speechwriting and the creative people behind powerful speeches. With categories like Best-Written Speech by Organization Type, Best-Written Speech on a Topic, Best-Written Speech by Special Occasion and the Grand Award, the Cicero Speechwriting Awards recognize the work that goes into making the speeches that help leaders achieve prominence in all sectors of business, politics and society.
Jeff's Blog
"Tough Talk for Hard Times"
Jeff has written and spoken extensively on how corporate leaders can use communications to rebound during an economic downturn.
What Can Jeff Do for You?